You Can Make The Best Sourdough Pancakes From Discarded Starter – It's Easy!
Are you looking for the best sourdough pancakes from discarded starter, then you came to the right place. First you need a good starter. The only thing I'm not big on is all of the discarded starter when you feed it.  That's where this recipe comes in. I scoured the internet and found quite a few different recipes and decided to come up with one of my own that I feel brings all of the best pieces from all that I saw. I think I came up with the best Pancakes I've ever had, much less made. They were definitely a hit with the family. Try them, they just might be the best Pancakes you've ever had.
You want to begin with a well established starter. If you don't have a starter, or don't know where to start (see what I did there?) I can put together another post describing the process I used and a few mistakes I made so you don't do the same. It's really a fun and actually simple process. Making your own Starter reminds me of a Science project from School. You take flour and water and breed a living, breathing thing. Pretty cool if you ask me.
There are really no special steps or order to add the ingredients. You can just add them all to a mixing bowl at the same time. What you don't want to do, however, is over mix everything. You want to just bring everything together where it's all combined. It's ok if there are a few lumps. If you over mix it, your pancakes will be dense.
Toppings are where everyone can add their own individuality to a stack of pancakes. To I believe a majority of people, butter and some sticky sweet syrup are the best. If you're my wife, all you would add is some butter and nothing else. Others like to use peanut butter instead of regular butter. I say, make it your own. If you want strawberries and whipped cream. Great! There really is no limit to the combinations you and add to your pancakes. Have fun with it. It's only food.
Check out My Full Recipe for The Best Sourdough Pancakes from Discarded Starter Below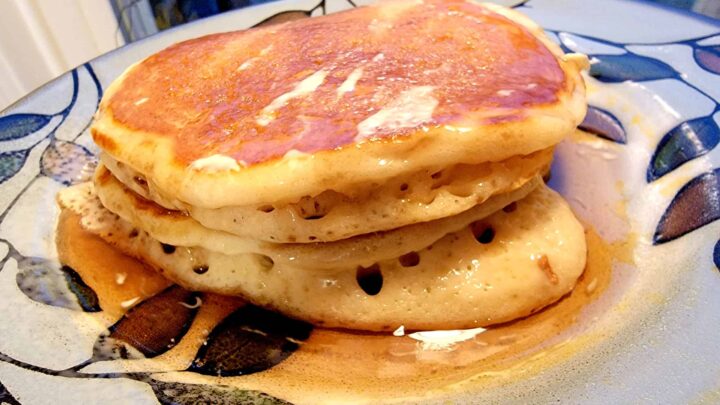 Yield:

12 Pancakes
The Best Sourdough Pancakes
Homemade Sourdough Pancakes using the discard from your starter.
Ingredients
2 Cups All-Purpose Flour
2 Tsp Baking Powder
1 Tsp Baking Soda
3 Tbsp Granulated Sugar
1 Tsp Salt
1 Cup Unfed Sourdough Starter
1 ½ Cups Buttermilk
½ Cup Milk
1 Tsp Vanilla Extract
1 Large Egg
2 Tbsp Butter (Melted)
2 Tbsp Vegetable Oil
Instructions
Preheat Griddle or Non-Stick Pan to
around 350 Degrees.
Whisk together all dry ingredients
in large bowl.
In a separate bowl, whisk together
all wet ingredients.
Mix all ingredients until just
combined. Scoop or pour around ¼ Cup of mix and cook on one side until bubbles start to pop and sides start to dry, roughly 1 minute. Flip, and cook for
additional minute on other side.
Serve with Butter and your favorite toppings.


Recommended Products
As an Amazon Associate and member of other affiliate programs, I earn from qualifying purchases.
Nutrition Information:
Serving Size:
1 Pancake
Amount Per Serving:
Calories:

197
Total Fat:

6.4g
Saturated Fat:

2.3g
Trans Fat:

0g
Cholesterol:

22.2mg
Sodium:

431.6mg
Carbohydrates:

27.8g
Net Carbohydrates:

26.5gg
Fiber:

1.3g
Sugar:

5.2g
Protein:

5.2g