Smoked Mushroom Smash Burgers with Smoked Cream Cheese and Bacon Jam.
With Smoked Mushrooms, Bacon Jam and Smoked Cream Cheese, you can't go wrong with these Smash Burgers. 
Who doesn't like a good burger? What's not to like? It's a meaty, cheesy stack of awesomeness. Smash burgers have been around for over 50 years, starting with Bill Culvertson, owner of the Dairy Cheer hamberger shop in Ashland, Kentucky.  One of his employees found that smashing the meat into the griddle with a number 10 bean can, you could get the best flavor into the burger. Smash Burgers really hit their peak of popularity when Blackstone Griddles hit the market.
These Smash bugers continue the tradition, but with a little twist that sets them apart and some amazing toppings to go with it.
Be the Fungi at the party
The biggest thing that sets these Smash Burgers apart makes up 25% of the patties and it's not something that you would normally think to add. Mushrooms. Not just any mushrooms. These Mushrooms are cold smoked to add another layer of flavor. 
Cold Smoking is something I've been doing for a while, but usually with Cheese (this will come into play later), Salt, Bacon, or Sausage. I've never tried it with mushrooms though. After this, I will definitely be doing it again. It worked really well adding just a little bit of smoke and accentuated the earthy flavor.
Bacon Jam is something everyone should have in their food arsenal. It may be time consuming, but with a little love, it adds a sweet and salty taste of heaven to everything you put it on. I mean, the main ingredient is Bacon! What's not to love?
Time to get a little cheesy
There are two types of cheese on these burgers. The first is essential to any good smash burger. Good old American cheese slices. Nothing melts better to make them gooey. The other goes back to the cold smoking before.
Smoked Cream Cheese has been pretty popular lately, and with good reason. It's amazing on crackers and works really well as a smear on the toasted burger buns. Just like the bacon jam, a little effort goes a long way for flavor.
The key to a good Smash Burger is a screaming hot griddle. I fire up my Blackstone on high and let it rip until I'm ready to smash. This will be the fastest part of the whole process, so don't get to comfortable. Put the balls of meat on the griddle, season them, and smash away. You don't need to annihilate the patties, just get a nice smash to allow more crust to form. Let them sear for about a minute, then flip, season the other side, add the American cheese, and let it get melty.
Once you have everything cooked and ready, it's time to build. Start with the toasted buns. Smear the Smoked Cream Cheese on each side. On the bottom bun, add the cheesy smashed patty. On top of that, add about a tablespoon of the Bacon Jam and spread it around. If you're like me, I love a double burger. Add another patty and top with more bacon jam. If you want, you can add some lettuce or arugula, but, if you want to get technical, there are mushrooms and onions already…so additional veggies are optional. Top everything off with the top bun and enjoy.
Check out My Full Recipe for Smoked Mushroom Smash Burgers with Smoked Cream Cheese and Bacon Jam down below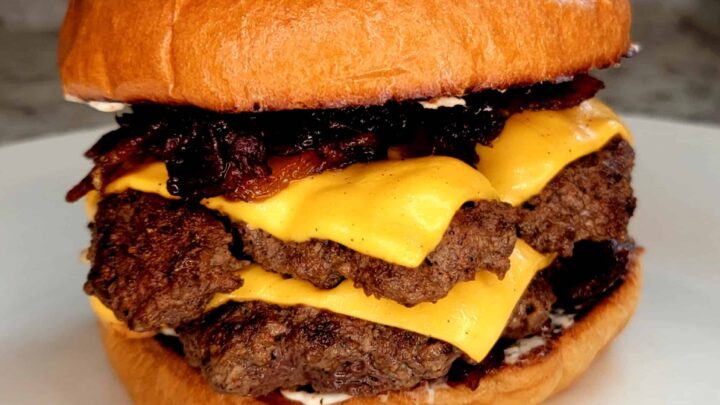 Yield:

5 Burgers
Smoked Mushroom Smash Burgers with Smoked Cream Cheese and Bacon Jam
Total Time:
2 hours
15 minutes
Cold Smoked Mushrooms in a blended patty, Smoked Cream Cheese, and Homemade Bacon Jam make for a tasty burger.
Ingredients
1 pound 85/15 Ground Beef
4oz Cold smoked mushrooms
4oz Cream cheese block
5 slices American cheese
1 pound bacon
1 pound Vidalia onions sliced
1/2 c brown sugar
1/2 c Maple syrup
1/4 c Apple cider vinegar
1/4 c Balsamic vinegar
1/4 c Jack Daniels
1/4 tsp dried thyme
Salt and pepper to taste
5 Brioche buns
Instructions
Use a smoke tube or a cold smoke generator to smoke the mushrooms for 1 hour. (this step can be skipped, but I highly recommend it.)
Mince the mushrooms up in a food processor then add to ground beef and mix well, then form into 4oz loosely packed balls and set aside.
Pre-heat smoker to 250 degrees, then season cream cheese with salt and pepper, or your favorite rub and smoke for 2 hours.
While the Cream Cheese is smoking, cut bacon into lardons and cook in a frying pan until crispy, then pull out and drain half of the fat out of the pan.
Slice onions and cook for 5 to 8 minutes until translucent, then add brown sugar and simmer for 2 minutes until all of the sugar is dissolved.
Add the syrup, both vinegars, Jack Daniels, thyme and bacon in the pan and reduce heat to medium low. Cook, stirring often for around 15 minutes until reduced. It's done when you scrape the bottom of the pan, it doesn't quickly come back together. Put in a jar or bowl and set aside. Bacon Jam will stay good for 4 to 6 weeks in the refrigerator.
Pre-heat griddle on high. Butter both sides of the buns and toast, then set aside.
Smear around 1 tbsp of Cream Cheese on both sides of bun, then add 1 tpsp of Bacon Jam to each side and set aside.
Place meat balls on and smash with a spatula or burger press and season. Cook for 1 minute or crust. forms.
Flip burgers, then season and add American cheese slices and cook for another minute or patties are done.
Place the patties on the bottom bun, then top with the other half of the bun.
Notes
The calories are not calculated accurately as you will have leftover bacon jam and cream cheese. Besides, if you're looking for a healthy recipe, this isn't the right one for you.
Nutrition Information:
Yield:
5
Serving Size:
1
Amount Per Serving:
Calories:

1145
Total Fat:

64g
Saturated Fat:

28g
Trans Fat:

1g
Unsaturated Fat:

31g
Cholesterol:

266mg
Sodium:

2288mg
Carbohydrates:

88g
Fiber:

3g
Sugar:

51g
Protein:

53g