How to make Smoked Caramel Apple Cheesecake
If want to know how to make Smoked Caramel Apple Cheesecake, you came to the right place.  I love taking classic recipes to whole new levels, and this one definitely qualifies for that. A slight hint of smoke adds a whole new flavor profile that you never you you even wanted. 
The crust for this Cheesecake is nothing new. It's a basic graham cracker crust pressed into a spring form pan. That's why you can trust it. The difference is, it's baked in the smoker. You can do it in the oven, but if you're already going through the trouble of making a smoked cheesecake, why would you?
Drilling into the Filling
This recipe, you really need to add everything in stages. You can't just dump everything into the mixer or it'll come out a chunky, nasty mess. Follow the steps in order and you'll end up with perfectly smooth filling. 
I personally love caramelized apples, and they lend themselves really well to this Cheesecake. Try another fruit, or no fruit if you like, but I highly recommend that caramelized apples.
Bake it till you make it.
The reason this cheesecake only has a hint of smoke is, the higher the temperature you run your smoker, the less pronounced smoke flavor you will get. At 325 in a pellet grill, you're basically running a wood fired convection oven. The usual rule applies; "if you're looking, you aint cooking." keep the lid closed the whole time of your cook. you want even temps to keep it from cracking. Same goes for the water bath. The steam helps keep the surface moist so it doesn't dry out an split when it rises.
When you're done with the initail bake, you want to shut down your smoker, but don't take the cheesecake out. You want it to cool down slowly with the smoker. What you can do is prop the lid open slightly to keep the air flowing. Let it cool in the smoker for about an hour, then move to the refrigerator for at least four hours, but overnight would be best to let everything firm up. Watch my YouTube video below for more tips and tricks. 
Check out My Full Recipe for How to make Smoked Caramelized Cheesecake below.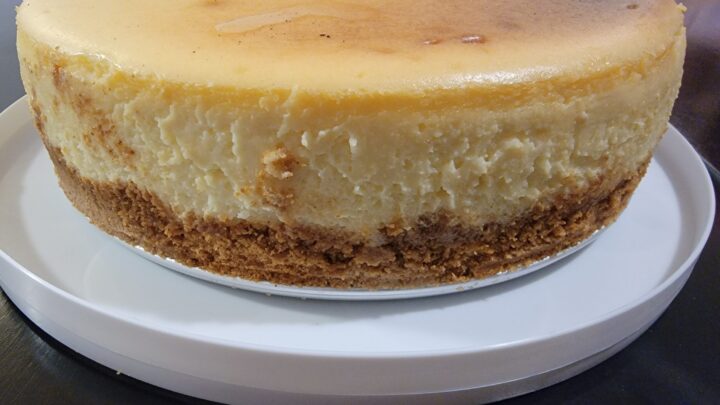 Yield:

16
Smoked Caramel Apple Cheesecake
Cook Time:
1 hour
40 minutes
Total Time:
2 hours
55 minutes
A slight hint of smoke takes this classic dessert over the top with a whole new layer of flavor.
Ingredients
Crust
1 3/4 Cups Graham Cracker Crumbs
2 Tbsp Sugar
Pinch of Salt
4 Tbsp Unsalted Butter, Melted
Filling
2 Pounds Cream Cheese
1 1/3 Cups Sugar
Pinch of Salt
2 tsp Vanilla Extract
4 Large Eggs
2/3 Cup Sour Cream
2/3 Cup Heavy Whipping Cream
Caramelized Apples
3 Large Caramelized Apples, Sliced
1/4 Cup Sugar
2 tsp Cinnamon
Instructions
Preheat smoker to 350 degrees

Process graham crackers in food processor until fine crumbs, then add salt, sugar, and butter, then mix well. Press into prepared spring form pan, then bake for 10 minutes in smoker.

While the crust is cooling, toss apples, sugar, and cinnamon in a bowl, then cook in frying pan over medium high heat until liquid starts to brown. When desired color, add on top of crust.

Triple wrap the pan in heavy duty foil.

Reduce smoker temp to 325.

For the filling, beat the cream cheese in an electric mixer on medium speed for 4 minutes until smooth. Add the sugar, then beat for 4 more minutes.
Add salt and vanilla, mixing after adding each one. With the Mixer on Low, add one egg at a time, beating for 30 seconds after each one. Add the sour Cream then mix until incorporated.
Add Heavy Cream and beat until completely incorporated. Be sure to scrape down the sides of the bowl so you get everything mixed up.

Pour Filling into the pan evenly then flatten top with a spatula.
Place foil wrapped spring form pan in later pan with high sides, then put in the smoker. Pour already boiling water into outer pan to about half way up the sides of the spring form.

Bake at 325 for 1 1/2 hours then shut down the smoker. Crack the door about 1 inch and let the cheesecake cool in the smoker for about an hour.

Cover the top of the cheesecake with foil, making sure it doesn't touch the actual top of the cheesecake. chill in refrigerator for at least 4 hours, but i noticed better flavor after chilling over night.

Carefully release the sides of the pan, slice, and enjoy.
Nutrition Information:
Yield:
16 slices
Serving Size:
1 slice
Amount Per Serving:
Calories:

425
Total Fat:

30g
Saturated Fat:

17g
Trans Fat:

0g
Unsaturated Fat:

10g
Cholesterol:

128mg
Sodium:

261mg
Carbohydrates:

34g
Fiber:

1g
Sugar:

28g
Protein:

6g
Nutrition information isn't always accurate, but let's face it. you know what you're getting into with cheesecake...