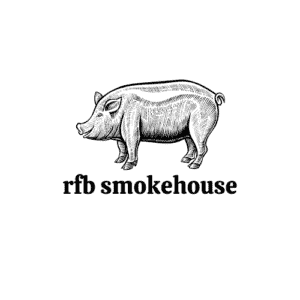 My Story and Things to Come.
Hi everyone! I want to first and foremost, thank everyone for following me along in this journey. RFB Smokehouse started as a hobby. It was something to do with my time during the Covid shutdown. Over the past couple years; it has evolved to so much more.
I have always loved cooking and food. My journey started with making a sponge cake with my Grandma. I was probably around five or six years old. She got out a cookbook and we went through it and picked out the recipe. She patiently helped me measure out all of the ingredients. I can still remember the ingredients together. Me holding the spoon and her hand holding mine. After that, I was hooked.
The next teacher in my journey and the one person I probably learned the most from was my dad. My dad loved cooking for others. That is one hundred percent where I got my passion from. He loved making people happy, and food was a great way to do that. My dad was the one that taught me that food brings everyone together in fellowship. He would work for hours on grilling a turkey, doing everything he could to make it as juicy and flavorful as he possibly could. I learned so much from him about work ethic and doing things the right way. His Jambalaya recipe is what the one I posted here was based on. If he were still alive, I'm sure he would argue that his was better, but deep down I'm sure he would admit that mine is. Lol.
Bringing people together and making them happy with food has been something I love for a very long time. I've worked hard to learn as much as I possibly could to make the best food I can. At one point, I  even came close to going to culinary school when I lived in Florida. We had Le Cordon Bleu right down the road from us and my mom tried to talk me into going. I seriously thought about it, but I've always had the fear that if I did it for a living, I would lose the passion. I've had jobs before, that after a long day of work, the last thing I wanted to do was come home and do that exact thing even more. I skipped culinary school because I love cooking for my family. Does that make sense?
My smoking journey started not that long ago. My grilling experience spans for decades. I even added foil packs of wood chips to add some smoke flavor, but I had never owned an actual smoker. Then one day, shopping at Aldi, I was walking down the "Isle of Shame" and noticed a small cabinet smoker marked down. It had to be mine. I've always followed the "baptism by fire" method, so the first thing I smoked in it was a pork butt for pulled pork.
I watched an incredible amount of YouTube videos and read numerous posts about the subject. The smoker was up to temp, I seasoned the pork, threw it in and the end product was amazing. I was hooked. Quite a bit of food was made in that little smoker, but sadly one day, there was a little too much grease after a cook and my first smoker went up in flames.
Shortly after that, the world was shaken by a big blow. Enter Covid. The whole world shutdown, and my life was no different. I made a bunch of different things and experimented with new recipes during the shutdown, but I really missed smoking. Then after talking to my brother one day, he gifted me my Camp Chef Pellet Grill. His generous gift got me back into the smoking game. What couldn't I make on this thing?  If I could make all of these awesome things, why not document it? RFB Smokehouse was born.
I started up my Instagram page to share the pictures of the amazing food I was making, and I had some great response. It went from one follower to ten, then one hundred, then a thousand. The feeling was amazing. I have almost 2400 followers now and it still feels amazing. After Instagram, I thought, "what's another way I can inspire people with food?" Enter rfbsmokehouse.com.
It was a whole other media to share my pictures and ideas. My first version of the page wasn't great. I used the stock WordPress builder for the site I bought my domain from. It wasn't easy, and it wasn't great, but it was live and it was another step in my process. YouTube was next. I have done a few videos, and I would love to do a few more, but that will come in time.
I gained some great contacts though Instagram and learned a lot from them. I've even made some new friends, like Brian at Nerd Culinary. Brian has turned out to be a great friend. It was his help and expertise that brought me rfbsmokehouse.com version 2.0. It's a powerhouse with so much functionality that I'm not even using…yet… It's ever growing. You guys haven't seen it yet, but I'm developing a couple of new pages with some new options. One of those is to add menus and an inquiry page for my next big venture.
With the love and support from my amazing wife and family, what has started as a love for food and a simple blog has now evolved into RFB Smokehouse LLC. After a lifetime of loving to cook for people, I am finally facing my fear and starting to do it professionally. I now have multiple smokers and have refined my recipes down. It's time to take it to the public. I am going to doing BBQ pop-ups and catering. I'll have all of my friends and family's favorites on my catering menu, and I will continue to experiment with some of my pop-ups.
This is all exciting and terrifying at the same time, but as the saying goes, "life begins outside your comfort zone." There's nothing like seeing the look on someone's face when they try the first bite of your food. Their eyes relax and almost close while they mouth the words, "Oh my God." It's amazing! I can't wait to see what the future has in store. I'm sure it'll be tasty. If you're local to me, keep your eye out on here, Facebook, or my Instagram form my pop-ups. And if you have a party you need food for and you want to do BBQ, keep me in mind. My catering menu will be my next addition to rfbsmokehouse.com.
Stay tuned, and thank you again for following my along in my journey. I appreciate every one of you more than you could ever imagine. And a huge thanks to my loving wife. She's my biggest supporter, sales person, and over all best friend. I wouldn't be anywhere near where I am now without her.