Buttermilk Biscuits are fantastic way to start the day.  
If you're like me, you LOVE a good Buttermilk Biscuit! What's not to love? They're flaky, buttery, carb loaded piles of goodness. The problem is, they take so long to make. Or do they?
I have always been taught that making biscuits was a time consuming, forearm burning adventure with highly technical methods. That was all until my Mother-in-law introduced me to a video by the lovely Brenda Gantt. She made it look so effortless and simple. Of course I had to give it a try.
Using the right flour is the biggest technical part of this whole recipe. Self rising flour isn't like regular All Purpose Flour. It has a raising agent like baking powder that gives it a little more umph when it comes to rising. Trust me, I accidently grabbed my AP Flour once while making these and they ended up tasty hockey pucks. So definitely stick with Self Rising Flour. If you don't have any available, technically you can add 1 1/2 teaspoons of baking powder per cup of AP Flour to get pretty much the same results, but why make things harder if you don't have to?
Your hands are the best mixing utensils you have. It gets a little messy, but that's all part of the fun. Get your hands in there and go to town. It'll all be worth it, I promise you!
A super hot oven is the key
These are made in a 500 degree oven. 350 degrees is usually everyone's go to temp for baking, but this is not the case for these. The high temperature helps the biscuits rise to greatness.
Get up close and personal
You want your biscuits to be touching when you place them on the pan. Having them touching doesn't let them spread out as much, so they have nowhere to go but up.
Check out My Full Recipe for Easy Buttermilk Biscuits down below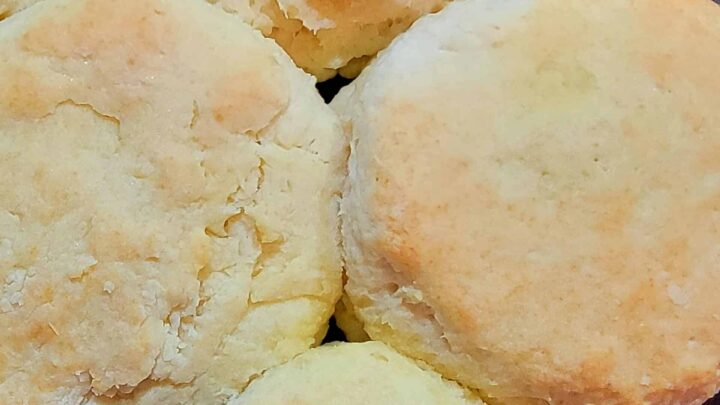 Yield:

6 Biscuits
Easy Buttermilk Biscuits
Ingredients
260g Self-Rising Flour
1/4 tsp Salt
3/4 cup Cold Full Fat Buttermilk
50g Butter Flavored Shortening
Instructions
Preheat oven to 500 degrees.
Grease a Cast Iron Griddle or Skillet with Shortening.
In a medium bowl, sift Flour and Salt and make a well in the middle
Put Shortening in the well, then add the Buttermilk.
Using your fingers, squish the Shortening and Buttermilk together, then slowly pull flour into the mix.
Prep your counter with a light dusting of flour, then pull the dough out of the bowl onto the counter.
Kneed a couple of times, then pat to about 1/2 inch thick.
Using a 2 1/2 inch Biscuit Cutter, cut out Biscuits starting at the edge.
Place on your prepared Griddle of Skillet, making sure they are touching each other.
Gently kneed any scraps together to make one more
Bake for 12 Minutes on the middle rack, until the tops are golden brown.
Recommended Products
As an Amazon Associate and member of other affiliate programs, I earn from qualifying purchases.
Nutrition Information:
Yield:
6
Serving Size:
1
Amount Per Serving:
Calories:

251
Total Fat:

10g
Saturated Fat:

6g
Trans Fat:

0g
Unsaturated Fat:

4g
Cholesterol:

22mg
Sodium:

700mg
Carbohydrates:

34g
Fiber:

1g
Sugar:

2g
Protein:

5g