Take a Classic Recipe to a whole new level.
Simple Smoked Beef Stroganoff is a great way to take a classic recipe to a whole new level by adding a dash of smoke. If you're like me, you grew up on processed, boxed Beef Stroganoff, and you know what, it's delicious. But it is so easy to make it from scratch and put your own spin or adjustments. I decided to smoke the chuck roast first and I don't know if I'll ever make it another way again.
I love barbecue and smoking meat. It adds so much flavor for not really that much more work. It just takes time and patience. I like to use my offset smoker, but you can use whatever smoker you have. For wood, I usually keep hickory or post oak around. Both work really well with beef. I smoke the beef for about 5 hours at 250 degrees, or until it has the bark and color that I'm looking for.
You can season the beef anyway you want. A simple mix of salt, pepper, and garlic powder would be great. I used a commercial rub that I really like, Blues Hog Bold and Beefy. It has a great combination of flavors that lends itself to this recipe very well. I picked it up at my local BBQ supply store, Meadow Creek BBQ Supply. They're an Amish Owned business, but they have online ordering for anything you could need. I suggest you check them out.
Mushrooms are a key ingredient in a good stroganoff. You can use any type that you like. I personally think Portobellos have a meaty flavor that is a great addition to this. They're also readily available.  Any good meaty mushroom will work.
Once the meat is tender, grab a couple forks or wear a pair of nitrile gloves with cotton gloves underneath and get to work. You don't need any of the gimmicky gadgets like that look like claws.  If the meat is cooked properly, it'll literally fall apart in your hands.
My favorite way to serve Simple Smoked Beef Stroganoff is the most traditional. Spoon the mixture on top of a bed of egg noodles and top with some fresh chopped scallions. This dish is an incredibly simple version of stroganoff, to me adding a dash of smoke takes it over the top.
Check out My Full Recipe for Simple Smoked Beef Stroganoff down below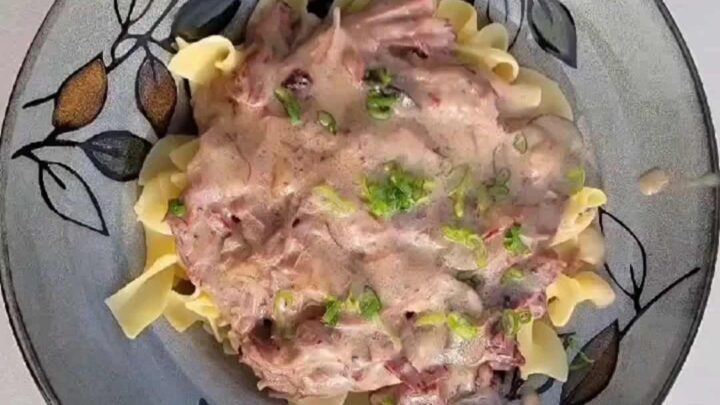 Yield:

8
Simple Smoked Beef Stroganoff
Additional Time:
15 minutes
Total Time:
5 hours
30 minutes
Ingredients
2 1/2 Pounds Chuck Roast
1 Large Yellow Onion
8oz Baby Portabella Mushrooms
16oz Beef Stock
8oz Sour Cream
2 tbsp Corn Starch
2 tbsp cold water
1 tbsp Green Onion
1 lb Egg Noodles
Instructions
Pre-heat smoker to 250 degrees.
Season Chuck Roast thoroughly with the rub, place in the center of the smoker and smoke for approximately 5 hours.
Meanwhile, dice onions and slice mushrooms and set aside in a foil pan.
Remove the chuck roast from the smoker and add it to the pan with the onions and mushrooms.
Add the Beef Stock and cover tightly with aluminum foil, then put back in smoker.
Smoke for 2 more hours or until the meat is tender. Remove the foil, add slurry of Corn Starch and Water. Mix well, then add Sour Cream and mix.
Return uncovered to the smoker for 15 minutes to thicken while your egg noodles cook.
Serve over Egg Noodles and garnish with chopped green onions.
Nutrition Information:
Yield:
8
Serving Size:
1
Amount Per Serving:
Calories:

500
Total Fat:

29g
Saturated Fat:

12g
Trans Fat:

2g
Unsaturated Fat:

13g
Cholesterol:

151mg
Sodium:

242mg
Carbohydrates:

21g
Fiber:

2g
Sugar:

3g
Protein:

41g