Instant Pot Beef Barbacoa.
This Instant Pot Beef Barbacoa is so easy and layered with flavors that it'll be a fiesta for your taste buds. Traditionally, Barbacoa is made from goat or lamb, but I personally prefer beef. There are a couple of cuts of beef that work very well. Some people like to use beef cheeks, but I am a big fan of chuck roast. Chuck roast is easy to find and relatively inexpensive. It also has quite a bit intramuscular fat so it breaks down and pulls very easily.
You don't have to smoke the Chuck Roast first, but I highly recommend it. The smoke adds another layer of flavor that lends itself very well to any recipe with beef. I smoked this in my Camp Chef SG24 Pellet Grill running Bear Mountain BBQ Gourmet Blend Pellets. If you don't have a smoker, or don't want to take the additional time, you can just set your Instant Pot to Sautee and brown the meat in a little bit of olive oil first. I'll stick with the smoke.
There are many ways to eat Barbacoa. Probably one of the most popular is served on corn tortillas with  diced white onions, cilantro, and some Salsa Verde. We like making taco salads a lot in our house by adding it to lettuce, salsa, sour cream, salsa, crispy onions, and sharp cheddar cheese. This also works really well with queso tacos like birria, but without consume. No matter how you serve it, I'm sure this will be a hit.
Check out My Full Recipe for Instant Pot Beef Barbacoa down below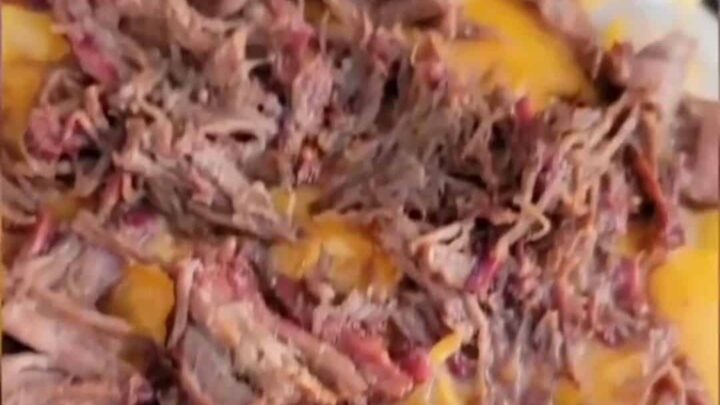 Yield:

10 Servings
Instant Pot Beef Barbacoa
Total Time:
3 hours
20 minutes
Instant Pot Beef Barbacoa that is smoked then finished in the Instant Pot.
Ingredients
3 1/2 Pounds Chuck Roast
3/4 Cup Beef Stock
1 large Sweet Onion (roughly chopped)
4 cloves Garlic (roughly chopped)
1 can Green Chilis (4oz)
1/4 cup Lime Juice
2 Tbsp Apple Cider Vinegar
1 Tbsp Oregano
1 Tbsp Ground Cumin
1/4 Tsp Ground Cloves
3 Bay Leaves
Salt to taste
Pepper to taste
Instructions
Start smoker and set the temp to 225 degrees.
Salt and pepper the Chuck Roast then put in the preheated smoker, Smoke for two hours
While the Chuck Roast is smoking, add Beef Stock, onion, garlic, chilis, lime juice, vinegar, oregano, cumin, cloves, salt and pepper to a blender and puree until smooth.
Remove the Chuck Roast from the smoker, cut up into two inch chunks and add to the pot.
Pour the contents of the blender over the cubed Chuck Roast and add the bay leaves then mix to cover the meat..
Cook in Instant Pot on High Pressure for one hour then quick vent to release the pressure.
Remove the bay leaves, shred with two forks and serve.
Recommended Products
As an Amazon Associate and member of other affiliate programs, I earn from qualifying purchases.
Nutrition Information:
Yield:
10
Serving Size:
1
Amount Per Serving:
Calories:

399
Total Fat:

25g
Saturated Fat:

10g
Trans Fat:

1g
Unsaturated Fat:

13g
Cholesterol:

132mg
Sodium:

274mg
Carbohydrates:

5g
Fiber:

1g
Sugar:

2g
Protein:

40g