Chicken and Sausage Jambalaya, my family staple
This Chicken and Sausage Jambalaya recipe is not just a family favorite, but I get asked to make it wherever I go. When it comes to the ingredients, it's really, very simple. In flavor, however, it's a powerhouse of complexity that leaves your taste buds wanting more. This was a recipe that my dad came up with, and over the years, I've improved upon. If he were here, I'm sure he would still argue that his was better, but I know deep down, he would agree with mine. It's taken me decades to decide to share this recipe. It's always been a family secret, but I decided that it's time to share it so others can enjoy it as much as I have.
You can't have a Cajun dish without the "Holy Trinity." In fact, you're going to see that the number 3 is a reoccurring theme here. The Cajun Holy Trinity consists with onions, bell peppers, and celery, and this recipe is no exception. Onions , bell peppers, and celery are aromatics that when cooked release their aroma and flavor which make them a perfect base.
I like to use chicken breast and smoked sausage in mine, and that's how this is written, but you can use any cut of chicken you like. Shrimp and andouille will work wonderfully as well, but I just stick to what I grew up having in mine. Why fix what ain't broke?
Good chicken stock is the best thing to use, but I generally use Roasted Chicken Better Than Bouillon. It's really easy to use and packs way more flavor than regular bouillon cubes. I use a one heaping teaspoon to one cup of water ratio. It's stronger than the label recommends, but it adds a little more depth of flavor.
The most time consuming part of this entire dish is cutting up the fresh veggies, but boy is it worth it. Aside from the rice, veggies make up the biggest part of this dish by volume. Using fresh veggies and even knife cuts are key.
It's up to you how spicy you want to make this. I will say that a little cayenne goes a long way. The difference between half a tablespoon (sissy strength as my dad called it) and a full tablespoon is a world of difference. I love it as hot as I can make it, but it could blow your friend's or family's taste buds off if you aren't careful.
Chicken and Sausage Jambalaya has been a standard in my house for my entire life. We would have this almost every Sunday. Nothing fancy, just a bowl full of warmth and memories.
Check out My Full Recipe for Chicken and Sausage Jambalaya down below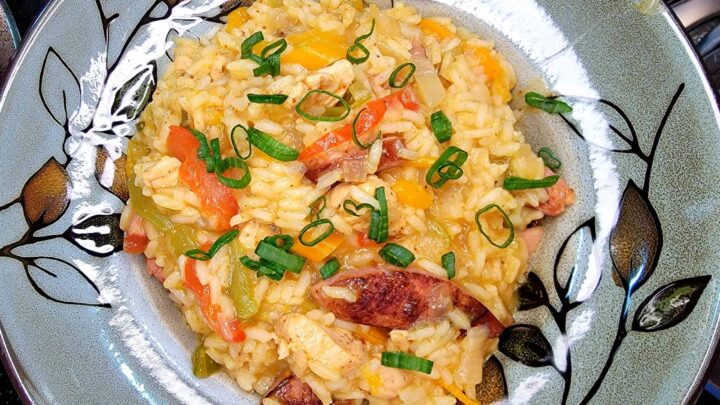 Yield:

12 Servings
Chicken and Sausage Jambalaya
Total Time:
1 hour
20 minutes
Ingredients
2 pounds Chicken
1 pound Smoked Sausage
3 cups Long Grain Rice
3 Yellow Onions
3 Bell Peppers
3 stalks Celery
3 cloves Garlic
3 Bay Leaves
1 tbsp Ground Paprika
1 tbsp Ground Cayenne Pepper (to taste)
6 tsp Chicken Better Than Bullion
6 cups water.
2 tbsp Olive Oil
Instructions
Add water and bullion to a stock pot on low heat and cover.
Cut sausage into half moon pieces and set aside.
Cut chicken into bite sized pieces and set aside.
Julienne onions and peppers and set them aside in a large bowl.
Dice celery and mince garlic, then add them to the bowl with the onions and peppers.
Add olive oil to a large high sided frying pan, brown the sausage, then add it to the simmering pot leaving the oil in the frying pan.
Brown the chicken in the frying pan in remaining oil, then add it to the simmering pot, leaving the oil in the pan.
Add the veggies, paprika, cayenne, and bay leaves to the frying pan with about 1/2 cup of the simmering chicken stock, reduce heat to medium, and cook until tender, stirring frequently. Be sure to scrape up all the browned bits in the bottom of the pan.
Add all of the veggies and cooking liquid and rice to the simmering stock pot and bring to a boil.
Cover the pot and reduce heat to a simmer.
Cook for approximately 20 minutes, or until the rice is done and serve while hot.
Nutrition Information:
Yield:
12
Serving Size:
1
Amount Per Serving:
Calories:

402
Total Fat:

24g
Saturated Fat:

7g
Trans Fat:

0g
Unsaturated Fat:

14g
Cholesterol:

97mg
Sodium:

463mg
Carbohydrates:

19g
Fiber:

1g
Sugar:

3g
Protein:

26g