Japanese Steakhouse flavors in you're own home.
Blackstone Teppanyaki Chicken brings a taste of your favorite Japanese restaurant to your own table. Teppanyaki comes from the Japanese words Teppan (the metal plate used for cooking) and Yaki meaning grilled, broiled, or pan fried. In the U.S. Teppanyaki has become famous due to Japanese steak houses like Benihana and Teppan Edo at Disney's EPCOT. This recipe brings all of the flavors in the comfort of your backyard. The show is up to you.
Mise en place is crucial for success in Teppanyaki. If you don't have every ready before you start cooking, you're setting yourself up for failure.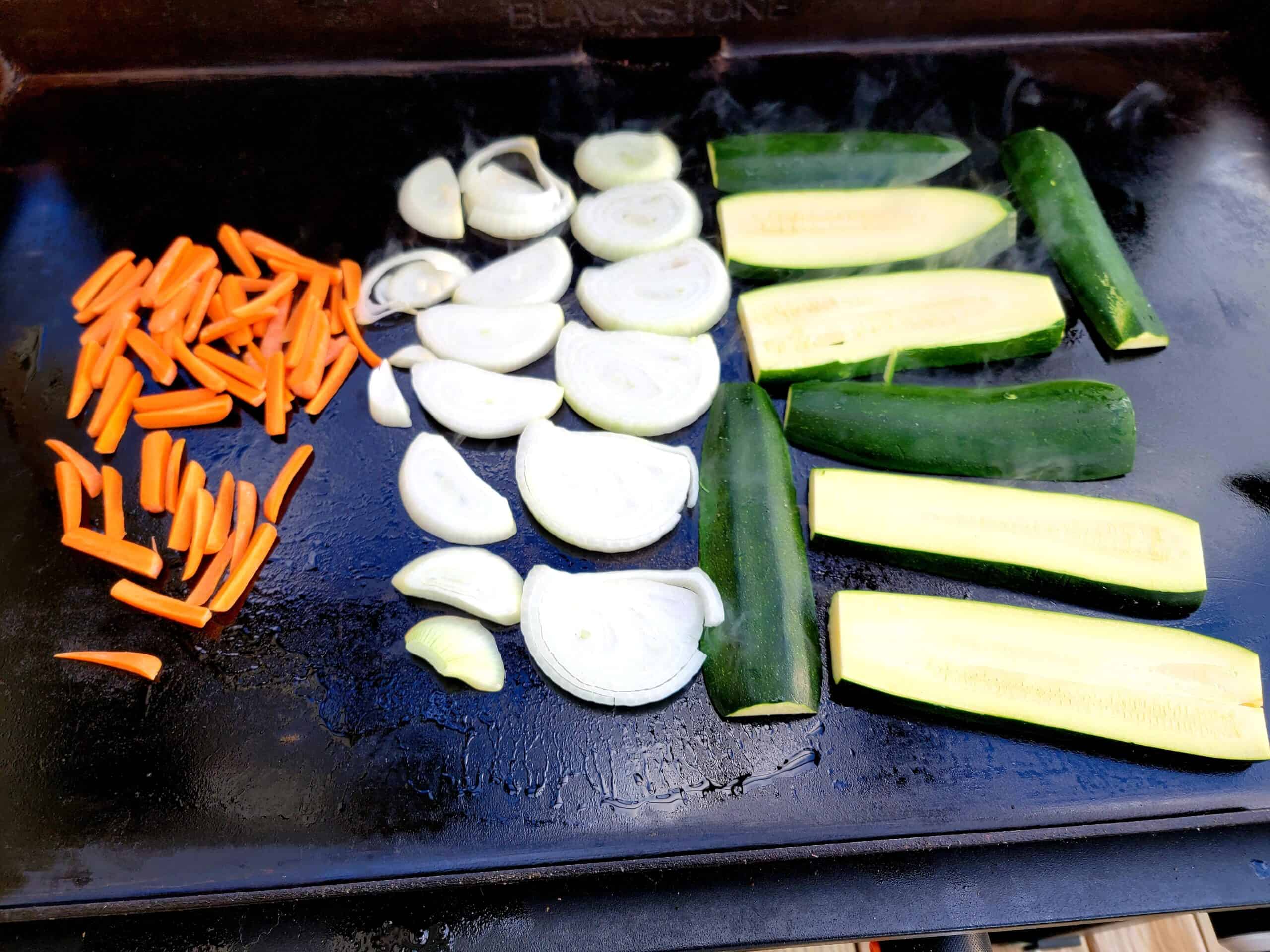 You'll want to set your griddle up for two different heat zones. On my four burner Blackstone, I like to run the middle two burners on high, leaving the outer two burners off. This will let you cook hot and fast in the middle, then use radiant heat to keep things towards the outside warm. Let the griddle warm up while you're cutting up veggies so it's screaming hot when you're ready to cook.
When you first put the veggies on the griddle is the perfect time to put on a show. The easiest and most impressive is the onion volcano. Use your spatula to take apart a round of onions and stack them from biggest to smallest. Please be careful of your surroundings with this step. After you have them stacked, pour a little vodka or other high proof alcohol into the stack of onions and SET IT ON FIRE (extra points if you yell volcaaaanoooo while it's burning.)
If you want to go with the safer route, you can switch the alcohol for water and do the choo choo train. Squirt a little oil in the stack, then a little water. For extra effect, once it starts steaming, slide the stack across the griddle while tapping your spatula to sound like a train bell. Either way you go, the crowd will love it.
A dome is a great accessory to have for your griddle, and this is a perfect use for it. After you have browned both sides of your chicken, dice it up into bite sized pieces, pour a little soy sauce on it, cover it with a dome, and squirt a little water under it. This will basically turn the griddle top into a steam oven and cook the chicken much faster.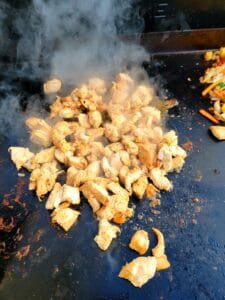 Once the chicken is fully cooked, pull the veggies back to the heat, add the liquid ingredients and toasted sesame seeds, then mix thoroughly. Serve with a side of white rice, fried rice, or udon noodles.
Check out My Full Recipe for Blackstone Teppanyaki Chicken down below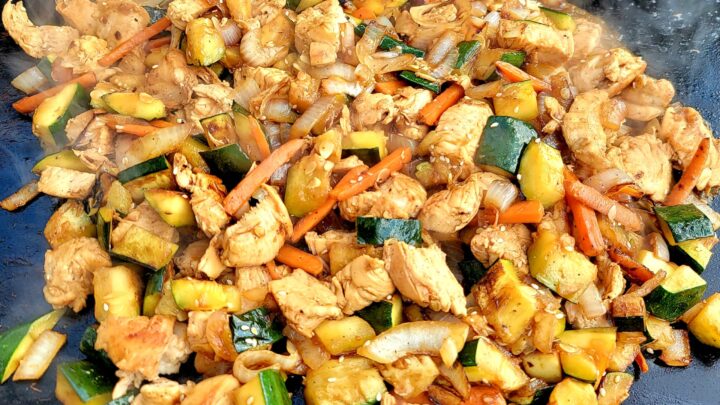 Yield:

8 Servings
Blackstone Teppanyaki Chicken
Ingredients
2 pounds Boneless Chicken Breast
2 large Zucchini
2 yellow Onions
2 carrots
2 tbsp Toasted Sesame Seeds
2 tbsp Canola Oil
2 tbsp Soy Sauce
1 tbsp Lemon Juice
1 tbsp Sesame Oil
2 tbsp Rice Vinegar
Salt to taste
Pepper to taste
Instructions
Pre-heat half the griddle on high heat, with the other half off.
Slice the onions into rounds about 1/2 inch thick and set aside.
Remove ends of the zucchini and slice lengthwise into 1/2 inch thick pieces.
Cut carrots into matchsticks.
Leave chicken breast whole, but trim off any skin or fat that might be remaining.
Add a little oil to the hot side of the griddle and spread it around.
Place the whole onion rounds and zucchini slices on the griddle and let sit until brown, then flip and brown on the other side.
Slice the browned onions and zucchini into bite sized pieces and move to the unheated side of the griddle.
Add the rest of the oil to the hot side and put chicken on, letting it brown well on one side, then flip.
Brown the second side of the chicken, then slice into bite sized pieces and cover with a dome, squirting a little water under the dome to steam until done.
Add soy liquid ingredients and sesame seeds to the veggies, then stir everything together.
Serve hot with rice or udon noodles.
Recommended Products
As an Amazon Associate and member of other affiliate programs, I earn from qualifying purchases.
Nutrition Information:
Yield:
8
Serving Size:
1
Amount Per Serving:
Calories:

274
Total Fat:

11g
Saturated Fat:

2g
Trans Fat:

0g
Unsaturated Fat:

8g
Cholesterol:

96mg
Sodium:

387mg
Carbohydrates:

6g
Fiber:

2g
Sugar:

3g
Protein:

37g